Author
DVLottery.me
2020-06-04
DV Lottery and Coronavirus (COVID-19)
Will the pandemic impact the members of the current lottery DV-2021 and will the DV Lottery 2022 be held in fall 2020?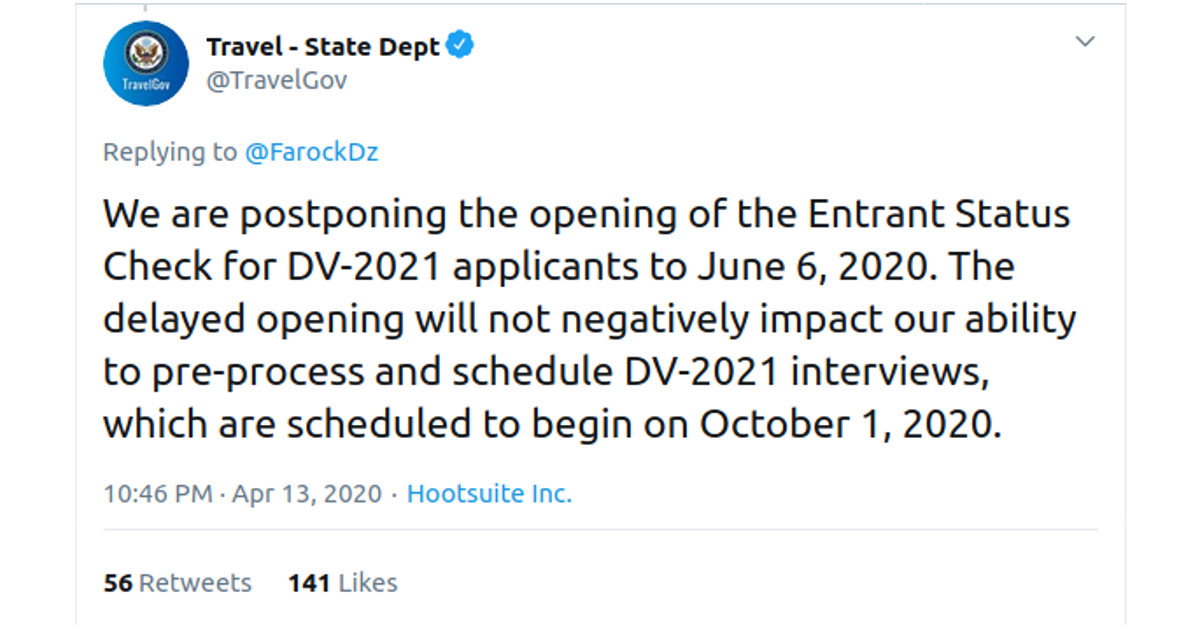 Due to the Coronavirus epidemic, all non-urgent visa processes were suspended. At this point, participants of DV Lottery are worried that they will not be able to pass interviews before the deadline. There are also doubts about the next lottery.
Let's start with the good news: there is no legal way to suspend or discontinue the DV Lottery completely. But currently the Department's resources are being used in responding to the COVID-19 pandemic and are prioritized for the assistance of U.S. citizens overseas. That's why the announcement of the Diversity Visa Lottery winners for the DV-2021 was postponed from May 5 to June 6, 2020.
The main reason for the postponement is that almost 13,000 USCIS employees were asked to work from home to slow down the spread of the pandemic. But as per the reports, USCIS will resume complete operations by June 4. No further delays were announced.
To learn if you are among 50,000 winners, you will have to visit the Entrant Status Check website at
https://www.dvlottery.state.gov/ESC/
. The deadline to check the status and verify the appointment is September 30, 2020.
Be prepared for possible delays of interviews and Green Card processing. Currently DV-2021 interviews are scheduled to begin on Oct. 1, 2020.
Online registration for the diversity visa 2022 program will begin in October 2020. The estimated date of the deadline for application is November 6, 2020.
Currently there are no official reasons for DV Lottery to be canceled!
Get a DV Lottery photo, and save DV confirmation code on your phone!
Get a photo for the Green Card Lottery (DV Program) right from your phone with a free 7ID application for iOS and Android. 7ID also can store your DV Program confirmation code needed to check your entrant status later.